A lot of my readers know that image on the cover of my novel, Pilgrimage, is a detail from a painting at the Metropolitan Museum of Art in New York City, a polyptych (that is to say, a panel painting that folds up) that had once been an altarpiece. The altarpiece as a whole is quite incredible, and shows scenes from the life (and death) of Saint Godeleva; in my novel, the mother of my heroine, Gebirga. The panel even includes images of the blind daughter who inspired Gebirga, so I was delighted to be able to use a part of it for the cover. Here it is in all its glory:


Well, not quite all its glory, as I discovered this evening. As an altarpiece, this polyptych would have hung behind and above the altar of a church. Polyptychs were designed to fold closed during Lent and other times of penance, concealing their beauty from the congregation. The closed doors of the polyptych would often have different painted scenes on their backs. You can see how this works in this link to the Ghent Altarpiece, which shows how it looks both open and closed.
It wasn't until tonight that I discovered what was on the back of the doors of the Godeleva altarpiece. When closed, the four panels each show a different saint, with kneeling donor portraits in front of the saints on the far left and far right. Here is how it looks: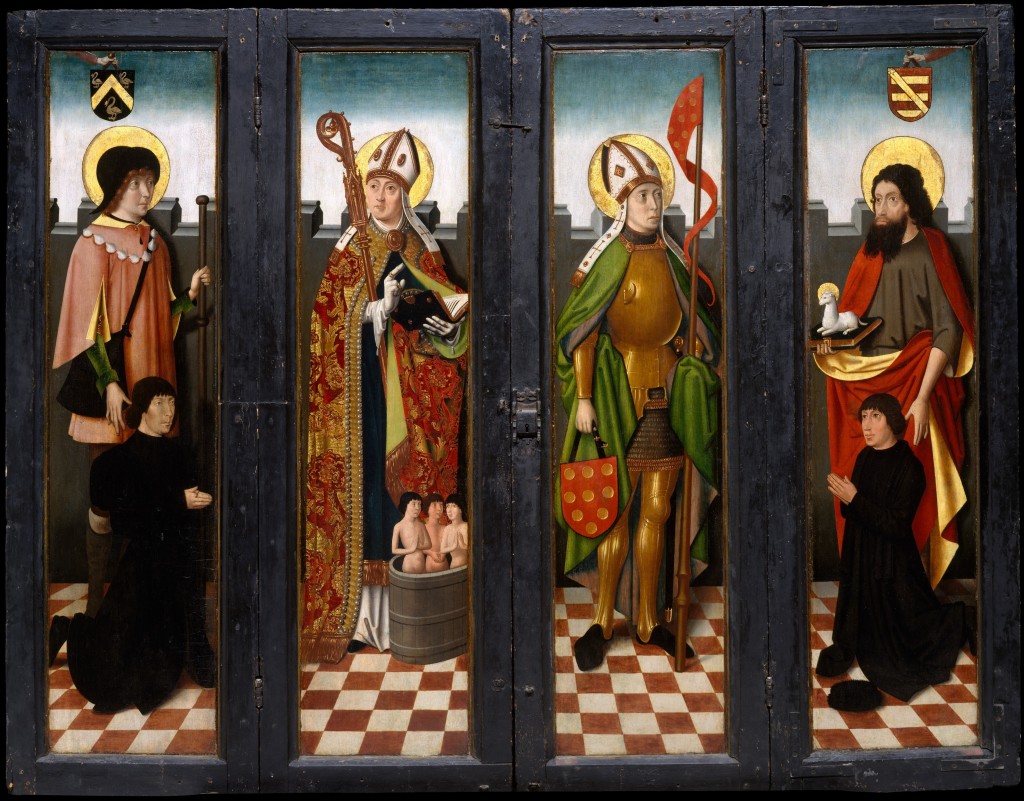 It was the two saints on the left who immediately caught my eye. I recognized them right away. The bishop in mitre and cope, holding his crook and a book was obviously Saint Nicholas, rescuing the three boys who had been chopped up and put in a barrel. Saint Nicholas, or at least his relics, play an important role in my novel. In their silver reliquary, they are Gebirga's prized possession, carried with her on her journey until she relinquishes them so they can travel back to the Low Countries from Spain by boat. And as all Dutch children know, every year Saint Nicholas sails again from Spain around this time to reward them with treats. And the saint on the far left? The saint with staff, and pilgrim's purse and hat, his neck ringed with scallop shells?
That is none other than Saint James, Sint Jaakob, Santiago himself.