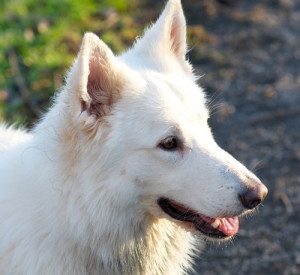 An author may think she knows what her book is about, but she only really discovers what it's about when it moves into the hands of her readers. I have always had the most terrible time distilling my novel into a "pitch" sentence, but thanks to my friend Kyle I can tell you now that it is a book about a girl and a dog who go on an adventure.
And what a dog she is. Her name is Liisa, and after Gebirga, she was the second character to populate my novel. If I were going to send Gebirga out into the world blind, I reasoned, the least thing I could do is give her a dog. Of course, the formal origin of the seeing-eye dog was not until after World War I, when they began training dogs to work with soldiers who has lost their sight during the war. But centuries before that, children's alphabets had "B is a Blind Man, led by his Dog," and so I felt it was fair to use a wise dog in my novel. But what kind? The breeds we know now were largely fixed in the last century or so, though many have medieval origins. We know most about medieval hunting dogs, because a good deal was written about them. We also know about medieval lap dogs, and both hunting and lap dogs appear in illuminations. We know rather less about what other kinds of working dogs would have looked like, though we know they existed. Dogs guarded sheep and property long before the Middle Ages, and sheep dogs would have been common in sheep-rich Flanders. So I chose to make Liisa the long-ago ancestor of the Belgian sheep dogs we know today, in the slightly rarer white version. This photograph is a remarkably good likeness of Liisa, considering she lived long before colour photography.
So that is what she looks like, and her instinct to protect Gebirga is built into her bones. I grew up around working dogs. My father and grandfather hunted, and my grandfather always had a dog, a yellow or black Laborador retriever. Remembering the bond between my grandfather and his dogs, like they were one person in two bodies when it came time to work, helped me think of the connection between Gebirga and Liisa. So Liisa is a little bit Nena, a little bit Sally, a little bit Tricky, a little bit Taffy. But mostly Sally.