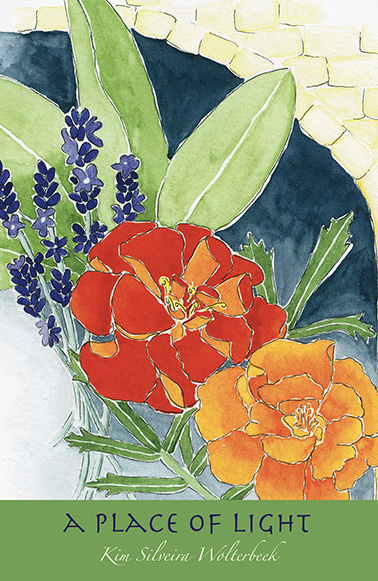 Robert of Arbrissel is one of the most fascinating characters from the Middle Ages. A truly counter-cultural figure, he was a monk and a hermit who preached poverty and renunciation of the world, and surrounded himself with the rejected and outcast of medieval society: lepers, the poor, and women, including prostitutes.
A Place of Light builds off one of the most compelling stories told about him by his contemporary, Baldric of Dol. According to Baldric, one day Robert walked into a brothel in Rouen, and preached about sin to the women inside. They, swayed by his words and moved by his vision for their future, followed him into the wilderness on his path to found a new community where they could live in peace and safety. In her novel about Robert and how he founded the medieval abbey of Fontevrauld (known best of all now as the site of Eleanor of Aquitaine's vivid tomb) with these women, Wolterbeck asks who they might have been, what their stories were, and why they followed Robert. It is a richly imagined and gripping portrait that treats religious ideals and idealism alongside vanity, pride, envy, greed, and lust with authenticity and nuance. If you are tired of historical novels that promise "meticulous research," then deliver cardboard characters out of step with their age (medievalist friends, I have you especially in mind), you will love this book as I did. Wolterbeck never takes the easy or obvious route with any of her main characters (who include, in addition to Robert the monk, Madeleine, the wary prostitute; Philippa, the mis-married duchess of Aquitaine; and Girard, the failed Benedictine). The unsympathetic characters have virtue and potential; the characters we love the most have flaws and hidden damage. Indeed, if there is a theme to this book, it is the relationship between damage and redemption. Its message is one the medieval audiences of Robert's sermons would have understood: we all are sinners; we all can be saved.
I was especially excited/nervous/anxious to read this book, because it is the first published offering from Cuidono Press, the press that will be publishing my own novel, Pilgrimage and in the interest of full disclosure, the novel was a gift to me from its editor. But if you have been reading my reviews over the years, you know that I do no reviews by request, and that I only review books that I love. This is especially important to me for books about the Middle Ages. I am proud my book will be standing beside this one.