Or Vanillekipferl, or vanilla crescents. They go by many names. The traditional Czech Christmas cookie plate is a thing of awe and beauty — a dozen or more different kinds of cookies, stuffed with apricot, layered with raspberry, filled with cream, or coated with chocolate or sugar, arranged in rich profusion. The wife of my grandfather's nephew is the champion, and she would always send my grandfather a box each Christmas. But even my grandmother, who was not one of the world's great lovers of cooking, always put together a cookie plate each year, repeating the tradition she learned as a child. Rum balls (hers were made of chopped chocolate and nuts, not cookies), shortbread (not as good as my Mum's. sorry, Granny), and small florentines were on it, but the very best were the vanilkové rohlí?ky. We tried to make them; they fell apart, took hours, and tasted good, but ho hum. "Oh?"my Granny would say, puzzled, when we complained about how hard they were to make, "I just roll them out in long ropes and cut them." Hmm. Clearly we weren't using the same recipe.
Enter the handwritten cookbook of my great-grandmother, Marianne, which I talked about in a recent post. Sure enough, in its pages, handwritten in German, her first language, is a recipe for Vanillekipferln. Would they work? I had to try them out: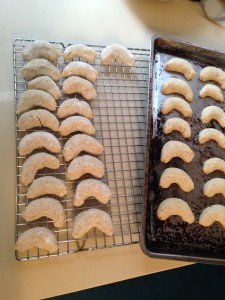 280 g Butter
300-460 g Flour (I used a mix of all purpose and cake flour. I think all purpose would work fine)
100 g ground hazelnuts (I toasted whole nuts in a low oven until the skins began to come off)
100s sugar
1 egg yolk
I ground the toasted nuts in a nut grinder. You could also process them until fine in a food processor, but the grinder is best. I then put all the other ingredients except the egg yolk into the processor, and processed them until the mixture began to come together in a ball. Then, I added the yolk and processed that too, until thoroughly mixed. The dough was too soft to work with at that point, so I put it in a cold place overnight. In the fridge for an hour would also work. In the morning, I preheated the oven to 300o F (yes, a low oven) and, miracle dicta, rolled pieces of the dough into ropes (about 1 cm diameter), cut them, and shaped them into crescents. I suggest using small pieces of the dough, no more than four cookies worth. Rolling on a cold surface helps. I used the smaller amount of flour — more flour would make a sturdier (though less buttery) dough. I baked them on greased sheets for 20-25 minutes. Begin with the shorter time, and check. There should be just a hint of brown at the tips of the cookies.
But wait, you ask, these are called vanilla crescents. Where does the vanilla come in? Once the cookies are baked, and before they cool down to much, I rolled each cookie carefully in vanilla sugar (superfine sugar to which I had added a vanilla bean a long time ago). About half a cup should do it. You could also use icing sugar, but I don't like the taste of that.