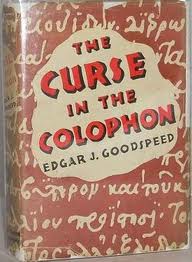 So many friends greeted my acquisition of this book with so much excitement that I thought a review was in order now I have finished reading it. For those that you don't know, Edgar Goodspeed was a Theologian and New Testament scholar at my very own Divinity School at the University of Chicago, getting his degree from there in 1898 and teaching there between 1900 and 1937.   Goodspeed was responsible for building up the manuscript collection that now bears his name at the university, a collection of New Testament manuscripts and papyri. How could I resist a book by another novel-writing colleague?
Especially a book devoted to the hunt for medieval manuscripts, a hunt that bears striking similarities to his own real-life acquisitions. For while he was a New Testament scholars, the materia for the study of the Greek New Testament is manuscripts copied in the Middle Ages. In his story, the first-person hero and narrator of the tale is assisted by the as-intelligent-as-she-is-beautiful Letitia ("Tish") in a hunt for a cache of manuscripts hidden, after the fall of Constantinople, revealed by a curse found in the colophon of a manuscript being studied at the University of Chicago. It is a a sea-borne quest in which the scholars are assisted by wealthy American patrons to reach the monastery of Selime where they find the treasure they seek behind a trapdoor in a tomb: Byzantine regalia, and relics, and, best of all, illustrated manuscripts.
Shades of Indiana Jones. Only, not really. For while Goodspeed knows he has to add a few dastardly ruffians and menacing Greeks to his tale, he isn't as comfortable with tales of high adventure as he is writing about the mundane frustrations and excitements of ordinary manuscript study. And that is the best thing about this book, from the perspective of this medievalist. We learn the virtues of using ultra-violet light over reagents to uncover text written in palimpsest, that is to say, text that has been over-written by another text. It is under the original cursed colophon that they find their clue to the location of the manuscripts they seek. They are thwarted by the demons that plague all of us: libraries with inconvenient opening times and backward equipment, jealous librarians who refuse to understand the crucial importance of our own personal quests, languages that need to be learned, transportation that must be acquired, and the religious agendas of those who are the custodians of the treasures the scholars seek to reveal. The final crisis comes, not at the hands of the enemies who have been dogging their every step (book dealers who *gasp* cut up manuscripts in order to sell their miniatures one by one), but at the hands of the customs officials who threaten not to let them remove their prizes from the country.
If you ever have had to sweet-talk someone in a language you don't know very well to look at a manuscript you are sure will be crucial for your work, this is the novel for you.