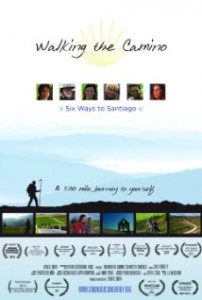 I saw this documentary, "Walking the Camino" last night at the Gene Siskel Film Center in Chicago, and I enjoyed it thoroughly. I think what moved me more than anything, beyond the beautiful scenery which I am already familiar with for the most part, was the way the faces of the pilgrims were transformed as their journey progressed. They all radiated a kind of peace and clarity you hadn't known they were missing when they left. It is the advantage of watching a documentary with real pilgrims, rather than a movie like "The Way." You can't perform that kind of internal change; it must come from within. The film is on for one more night in Chicago, so catch it before it leaves. It is also showing elsewhere in a number of Canadian and American cities.
I have been interested in the Camino since by chance I read Laurie Dennett's A Hug for the Apostle back in the 80s. She did her walk before Paulo Coelho's Pilgrimage and other popularizing accounts transformed it from an almost forgotten walk known to enthusiasts and Spaniards into the huge phenomenon it is today. I loved the book, read everything I could about the road, medieval and modern, and dreamed about doing the walk some day.
But I haven't done it yet (this is the first question people ask me when they discover I have written a historical novel about the medieval Camino so I might as well get it off the table) and I don't know if I will. It is not the physical challenge that scares me; that I welcome (though I may be deluding myself). There is the problem of fitting it into an academic schedule of course. Once, it was the fear of the frustration of missing some medieval gem a few kilometres off the road because I am tired and have to get to Pamplona or Ponferrada by nightfall. But I return often enough now, that should not be an issue. I have criss-crossed the road numerous times in different places on research trips to Spain, reading medieval manuscripts in towns where medieval pilgrims once walked and modern ones trace their footsteps. I was going to add "and as a tourist" but if I want to be honest, I am never just a tourist in Spain. Everywhere I go, I am thinking about the country's past, learning its history from its geography. And that, I think, is the real problem. I fear I know the land too well, that I won't be able to bring to the Camino the open heart I need, ready to learn all it has to teach. I'll be the annoying one in the albergue, debunking the myths. I worry that to be a true pilgrim, I need to go to Japan or Mexico or somewhere less freighted for me.
But it still calls to me. I still want to do it. And one day, maybe I will.