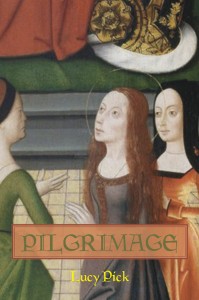 By Lucy Pick
For the rest of twelfth-century Europe, Spain was a far-off and exotic place, home to the holy site of Compostela, shrine of Saint James. The saint's tomb drew a perpetual wave of pilgrims, coming for adventure, or seeking a miracle from the saint. Pilgrimage is the story of one of those pilgrims.
The last thing Gebirga of Flanders remembers seeing is the argument between her parents that ended in her mother's death. In the years since, she has learned to negotiate her family's castle of Gistel as a blind woman but everyone assumes that one day her home will be the convent founded in her mother's honor. An accidental encounter offers another path, and Gebirga flees her callous family with a pack of pilgrims that includes a count's daughter bound for marriage, two clerics writing a guidebook, and a mysterious messenger with an unknown agenda, all headed along the pilgrimage road to Compostela. The journey takes Gebirga from her home on the edge of the North Sea across the kingdoms of France and into the Iberian Peninsula, where her mission to escort a young noblewoman becomes a dangerous adventure involving power-hungry kings and queens and even the Roman Pope. But can a blind woman navigate the shoals of international politics? To find a place where she can belong, Gebirga must learn there are other ways of seeing the truth than with her eyes.
ISBN 978-0-9911215-3-3
$16.00 paperback, 318 pages
Published July 7, 2014
Click here to order directly from Cuidono Press, with free shipping to the United States
Click here to order from Amazon.com
PILGRIMAGE will be available soon as an ebook, and from Amazon.ca for Canadian readers. Watch this space for information.