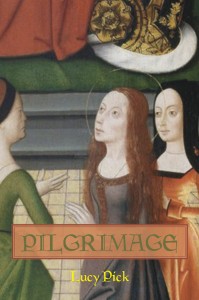 At last! My historical novel about the pilgrimage road to Compostela in Spain in the 12th century was released on Monday. I've been telling people all over the internet about it, and even added a page here, but this is my first chance to do a full blog post. So I have a whole bunch of links for you.
First is the book's Goodreads page. If you have an account, do drop by and take a look. Reviews are always very welcome.
Next, I made a Pinterest page showing images from the different places my heroine visits on her journey, all keyed to a map. If you zoom in on the map, you get a better idea of the different locations.
I joined Twitter. My handle is @lucykpick. If you follow me, I will follow you, la-la-la-la-la, la-la-la-la-la.
And last but not least, here is a link to the publisher's website where you can buy a copy all your very own with free shipping within the United States. Yes, it will be available in bookstores, in Canada, and as an ebook very soon. Believe me, I will let you know!