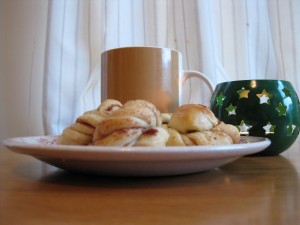 No, not me. Well not exactly. Today is the feast of Sankta Lucia, the patron saint of light. In the old calendar, her feast was the shortest day of the year, and in Sweden it is celebrated with singing, candles, coffee, and special little buns at dawn. It's also a great chance for me to try out my new camera.
"But Lucy," you say, "Those little buns look so delicious. Where can I get some for myself?" I am so glad you asked. I posted the recipe for them this time last year, and they're called bullar. Follow the link and they too can be yours. Which brings me to an interesting factoid about this blog. My food posts are by far the most searched for parts of this blog. If you google "bullar," this recipe turns up close to the top of the page. But by far the most popular recipe I ever posted is the one for flan de queso. It is regularly the top monthly search string. Makes me think I should post more recipes.
Now if you'll excuse me, I'm off to enjoy my tea.