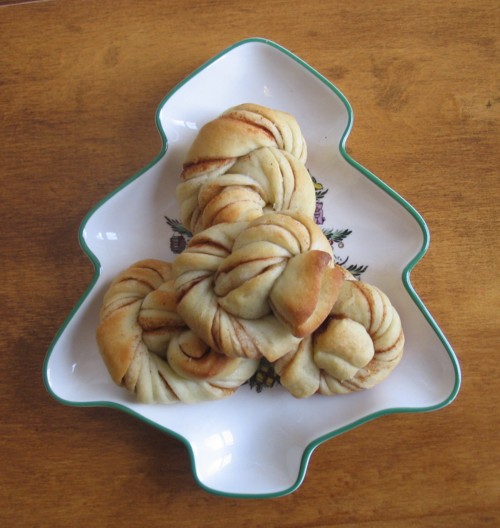 I am one-quarter Swedish, but since it is too much of a strain to be one-quarter Swedish all year long, I solved that problem by being all Swedish during the month of December. And since someone was nice enough to tell me they made the last receipt I posted, I thought I would give you another one. This one is for the lovely buns in the photo, called bullar. They may look complicated, but are very easy and all people seem to love them — children, in-laws, boyfriends, ex-husbands, step-siblings, everyone.
3/4 cup milk, scalded
1/2 cup sugar
1/2 cup (1 stick) butter plus a few tablespoons
2 small tablespoons (2 packages) yeast
1/2 cup warm water
4 1/4 – 4 3/4 cups all purpose flour
1 tsp. salt
1 1/2 – 1 tbs. ground cardamom
2 eggs
cinnamon and sugar
I scald the milk in the microwave in a large measuring cup and then add 1/2 cup butter cut in cubes and the sugar, to melt the butter and dissolve the sugar in the warm milk. Sprinkle the yeast on th warm water and stir. Put the milk mixture in a large bowl and add 1 1/2 cups of flour. beat with an electric mixer for a minute at low speed to develop the gluten. Beat in the eggs and the yeast. Now would be as good a time as any to add the salt and the cardamom. I always use a full tablespoon of the latter, but you can use less. Make sure it is fresh. Add as much of the rest of the flour as you need to make a nice dough. Knead for five to eight minutes, until the dough is smooth and elastic. This receipt makes a dough that is very easy to work with. Don't add too much flour and let it get too dry, but the dough should not be sticky either.
Let it rise for 1 to 1 1/2 hours, until it has doubled in bulk. Punch it down. Divide it in two, and keep the half you are not working with under a cloth while you shape the first half. Roll one half into a long rectangle about 10″ wide and as long as it gets with the dough fairly thin, maybe 2 and a half feet long. Spread your rectangle of dough with two or three tablespoons of melted butter and sprinkle it with cinnamon sugar. How much cinnamon sugar? Well, let's say you were making a nice piece of cinnamon toast for yourself. That much. Fold the longest end down 1/3 from the top and up 1/3 from the bottom, like you were folding a letter for a business envelope. You will end up with a piece of folded dough about 3″ wide and still two and a half feet long or whatever, sandwiching the butter and cinnamon sugar. Cut this long piece of dough into short strips that are about 3/4″ wide. Hold an end of each strip in each of your hands and twist it as many times as you can, four or so good twists. Then tie it in a knot. Yes, it will work. The first strip is the hardest, but you'll soon get the knack. Do this for each strip and put them on a cookie sheet spaced about an inch apart on all sides.
Now you can preheat your oven to 375 degrees because you need to let each batch of dough knots rise for half an hour before you cook them. Roll, fill, fold, twist, and knot the second slab of dough while you're waiting. Then cook each sheet for 12 to 15 minutes, until they are lightly browned on the top and bottom. And then eat them with a mug of coffee, tea, or cocoa. Dipping is encouraged. Yum.
If you are very enthusiastic, you could brush beaten egg on them and sprinkle on pearl sugar before you put them in the oven, but my family always says to heck with it. We do freeze them in bags in batches, so we can always have them fresh. I find that reheating them for 20 seconds in a microwave warms them perfectly.